iMfolozi and Hluhluwe Game Reserves are situated in Kwa Zulu Natal in an historic area just north of Durban which was once the hunting grounds exclusively used by kings of the might Zulu nation. There are several signs of settlements from the Stone Age in the area. The rolling hills and lush bushveld in Zululand provide safe sanctuary for Big Five game which includes Lion, Buffalo, Leopard, Elephant and Rhino. The area is generally hot in summer, mild in spring and cool to cold in winter with occasional spells of freezing cold weather. These Zululand game parks are third only behind a Bespoke African Safari or a visit to the Kruger National Park.
Hluhluwe-iMfolozi Game Reserve
iMfolozi Game Reserve is part of the Hluhluwe iMfolozi Park, an immense conservation zone known for its immense variety of fauna and flora. This is Africaís oldest game park, established in 1895, where the Big Five occur, and the only one in the Kwa Zulu Natal area under formal conservation. Situated in the southern part of the Hluhluwe iMfolozi Park on the Elephant Coast, in the center of Zululand north of Durban, it offers visitors numerous activities including: game viewing drives, self-guided walks, exciting wilderness trails, picnic sites and boat tours on Hluhluwe Dam. Camping sites have dedicated cooks who prepare special and traditional meals for guests.
Visitors can view animals up close from viewing hideouts that overlook waterholes and pans where they can spot hyena, cheetah, zebra, giraffe, wild dog, Impala, Waterbuck and Blue Wildebeest. There are also large numbers of Waterbuck, Mountain Reedbuck, Kudu, Steenbuck, Bushbuck, Nyala, Warthog, Duiker and jackal. More than 340 bird species have been recorded in Zululand on the Elephant Coast.
Accommodation includes self-catering cottages and chalets, tented camping and various luxury Safari Lodges.
Today iMfolozi Park is well known throughout the world for its conservation programs to save the White Rhino on the endangered species list. The Centenary Capture Centre in the park sets exceptional standards for sustainable utilization in Africa and animal capture procedures.
General Information
There is a low risk of malaria in iMfolozi Game Reserve, however, it is advisable to take precautions before traveling. There are no restaurant facilities in iMfolozi Game Reserve and the nearest town, Mtubatuba, is 45 minutes drive away where a full range of services is available. Refreshments such as cool drinks, as well as curios, fuel and camera film can be purchased at the Mpila Camp Shop.
Hluhluwe Game Reserve
Hluhluwe Game Reserve offers visitors some of the best safari holidays in South Africa. The park has a 190 mile (300km) road network and the first visitor camp was built in 1934 at Hilltop.
The Hluhluwe area has a hilly topography with altitudes ranging from 260ft to 1,770ft (80m to 540m) above sea level. It is a well-watered area with the high ridges supporting the coastal scarp forest while there is bushveld in the lower valley areas. To the north rugged mountains, grasslands and forests constitute the Hluhluwe area while the iMfolozi area can be found in the southern area with a vast open Savannah close to the White and Black Umfolozi rivers.
The River Flood plain in Hluhluwe is one of the only regions in South Africa where pink-throated, orange-throated and yellow-throated Longclaw bird species can all be seen together. Other bird life in this spectacular area includes: Wahlbergís Eagle, Night Heron, Black-Bellied Korhaan, Klaasí Cuckoo, Crested Barbet, Little Bee-Eater and Shelleyís Francolin. The reserve also has a large variety of indigenous flora.
Conservation Efforts
An attempt was made in 1981 by the Natal Parks Board to reintroduce African Wild Dogs, which were in danger of becoming extinct, back into the park. 23 dogs, mostly bred in zoos, were released in the area, however, the effort had minimal success and today the Wild Dog population fluctuates between 3 and 30 dogs.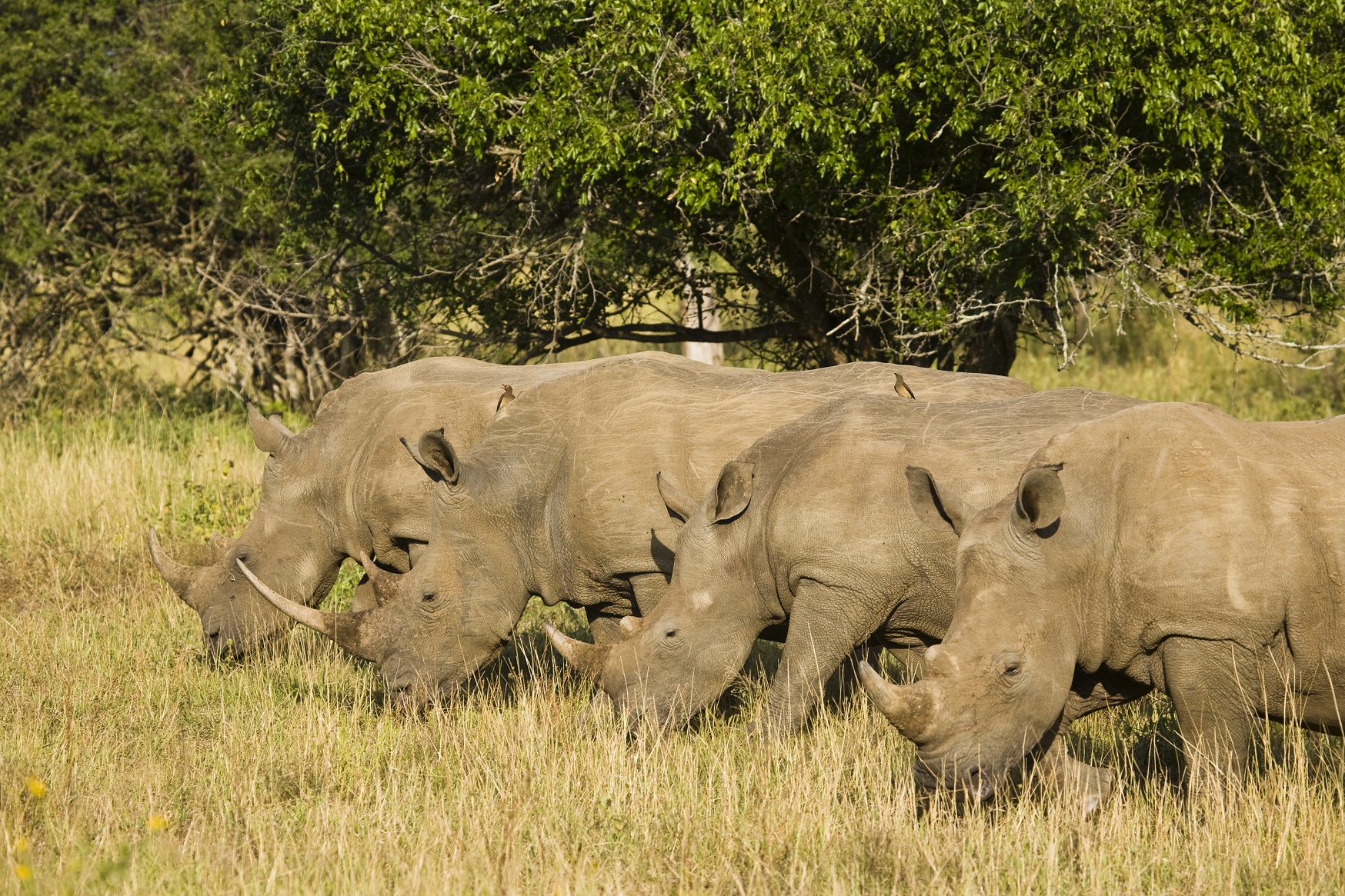 The Rhino Preservation movement originated in the Hluhluwe-iMfolozi Park which strives to breed the Rhinoceros species in order to save it from extinction. As a result of Operation Rhino, largely driven by the parkís warden, Ian Player, the White Rhino conservation program has become renowned worldwide. Due to these conservation efforts, the park now boasts the largest rhino population in the world and today more than 1,600 Rhinoceros roam the reserve. Hundreds of wild animals have been transported from Hluhluwe to other game reserves all around the world. However, a recent increase in rhino poaching has compromised the success of the program and this threat has become of great concern, not only for conservationists in the park, but also for conservationists worldwide.